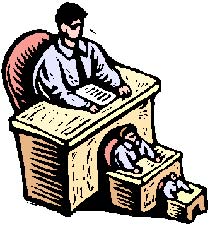 The number of civil servants in Russia has nearly doubled over the last 10 years, according to recent figures from the Russian Federal State Statistics Service.  The agency reports on March 18th that from January 1999 to October 2008, the number of state employees jumped from 485,566 to 846,307, growing by a rate of 1.74 times.
The number of officials in regional bodies more than doubled, growing by 2.25 times, while the number of federal employees rose by 1.6 times.  The number of municipal officials grew by 2.07 times.
The report reveals that as a whole, women outnumber men in the government service.  In the highest managerial positions, the reverse is true, and men outnumber women two to one.  The average Russian civil servant is 40 years old.
Russia's bureaucrats have a bad name in the country.  With already rampant corruption increasing steadily in recent years, the government is now taking steps to boost their image.
According to a March 12th report in the Vedomosti newspaper, the state is allocating nearly 700 million rubles (€15.3 or $21 million) of the federal budget to raise public trust in the civil service.
The initiative, signed by President Dmitri Medvedev on March 11th, will take steps to raise the index of confidence in state employees.  It also hopes to reduce the percent of bureaucrats who leave the civil service before reaching retirement age by as many as 30 percent.
Medvedev, a lawyer by training, has called for streamlining the civil service and getting rid of ineffective managers.