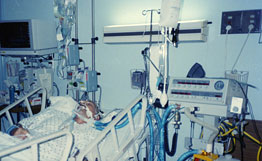 A media chief in the southern Russian city of Saratov is in critical condition after being brutally attacked Thursday evening.  As the RIA Novosti news agency reports, unknown assailants jumped Vadim Rogozhin near his home as he returned from work.  Investigators said the 38-year old Rogozhin, who works as managing director of the Vzglyad media holding company, was repeatedly hit in the head with sharp objects.
Nikolai Lykov, editor-in-chief of the Vzglyad news portal, said Rogozhin was rushed to the hospital with severe bruising and cut wounds.  His health remained on edge after doctors operated well into the night.
"The operation, which lasted several hours, was over at around two in the morning," Lykov said.  "The surgeons, doctors from the 1st city hospital, did everything possible, but they could not give any guarantees.  Vadim still has not regained consciousness, and remains in intensive care.  At this point everything depends on him, on his strength."
Local law enforcement have launched a criminal investigation under article 111 of the Russian Criminal Code (Intentional Infliction of a Grave Injury).
Rogozhin's colleagues believe the attackers intended to take the journalist's life, and said the attack could be connected with his professional activities.  Rogozhin heads the Vzglyad media holding, comprised of an online newspaper, an internet TV station and the Saratovsky Vzglyad newspaper.
The Russian Union of Journalists and local media heads in Saratov released a statement on the incident, pledging support for Rogozhin.  To raise public awareness on the dangers faced by reporters, several Saratov newspapers will publish white spots on the first lines of their front cover pages, the statement said.  The stunt aims to bring attention to the pressure journalists face from the criminal world.
The statement goes on to say that journalists remain the most defenseless "fighters for a just world order."  "The government must have the will and the means to protect the journalist's work from criminal lawlessness," it adds.
Lidiya Zlatogorskaya, the chair of the Saratov branch of the Russian Union of Journalists, said the attack could be connected with Rogozhin's writing.  The journalist "stepped on the interests of many," in his articles, she told the Kasparov.ru online newspaper (Rus).  The incident was also likely an attempt to intimidate other media workers, she said.
According to Zlatogorskaya, attacks on journalists in Saratov are fairly common.
"God grant that he recovers.  We are very concerned."