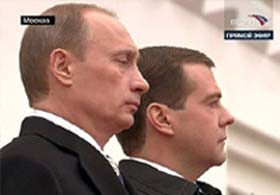 Nearly a year since Dmitri Medvedev was elected Russia's president, Russians remain skeptical that he is actually running the country.  According to a new survey by the Levada Center polling group, only 12 percent of the population now think Medvedev holds the reigns, down from 23 percent a year ago.  34 percent of Russians are convinced that Prime Minister Vladimir Putin continues to hold complete control, up from 20 percent a year ago.  50 percent believe that Medvedev and Putin are equally in power.
1600 people in 46 regions were questioned for the survey from February 20-23rd, with a statistical error of no more than 3.4%.  A similar survey was conducted in February 2008, asking respondents what they expected to see from Medvedev after he was elected into office.  The findings show that trust in both Medvedev and Putin has fallen significantly over the year.
Asked to name 5 to 6 politicians they trusted most, 62 percent included Putin and 39 Medvedev in 2008.  In 2009, Putin's percentage had fallen to 48, while Medvedev's stayed nearly the same at 36 percent.  The Levada Center had previously reported that public approval ratings for both leaders had dropped sharply in the last month.
People have become more rooted in the idea that authority is concentrated in Putin's hands, and that the president's power had sunk, said Aleksei Grazhdankin, the Levada Center's deputy director.  Commenting on the lower public trust, Grazhdankin said the figure was elevated during the 2008 election campaign, returning to normal levels after the election.