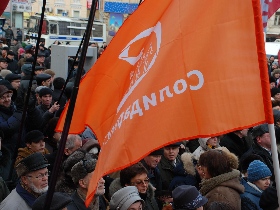 Protestors overflowed out of a crowded central square in Moscow Saturday, filling the streets with a new opposition movement intent on uniting the democratic forces within Russia.  Solidarity, which was formed in December 2008, publicly rallied supporters for the first time at the Chistoprudny boulevard, according to the Kasparov.ru online newspaper.  The demonstration, which was sanctioned by city officials and expected to draw around 300 people, instead brought together over 600 participants.
The declared purpose of the event was to defend the social rights of Russia's citizens.  Participants also called for the resignation of Prime Minister Vladimir Putin's Government.
Speakers at the event included Solidarity leaders Garry Kasparov, Ivan Starikov, Lev Ponomarev and Oleg Kozlovsky.  Former Prime Minister Mikhail Kasyanov, the head of the Russian People's Democratic Union (RNDS) also took the stage with other activist leaders.  Speakers blared the organization's semi-official theme song: Russian rock legend Viktor Tsoi's "Change!"
Solidarity's orange banners waved among the crowd.  Demonstrators also came out to represent nearly all of Russia's independent democratic groups, and activist carried flags showing support for numerous groups, including the Union of Right Forces, Oborona and Smena.
The liberal Yabloko party declined an invitation to the event.
Seven instigators, activists from the pro-Kremlin Young Russia movement, were detained during the rally.  The group got on the roof of a nearby building and tried to unfurl a banner reading "Quit rocking the boat."  Another pro-Kremlin activist was detained when he climbed on a tramway stop and threw leaflets with the same slogan.  As the activists were detained, the crowd chanted "the militsiya is with the people!"
A concurrent demonstration in St. Petersburg was cancelled Friday after organizers failed to get permission from city authorities.  Officials had offered a single location five kilometers (3.1 miles) from the nearest metro station, and had rejected three sites proposed by organizers.
Leaders of Solidarity say the Russian government is failing to act responsibly in the face of a snowballing economic crisis, and have called for widespread political reform.
The group also presented its own set of anti-crisis on February 6th.  Some suggestions include include using budget funds to help citizens as opposed to corporations, battling rising prices for consumer goods, and openly speaking with the public about the economic crisis gripping the country.
—
Watch video from the Solidarity press conference presenting the group's anti-crisis plan (Rus).