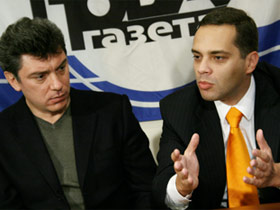 A new report released by two leading Russian experts argues that Vladimir Putin's Government will be unable to pull Russia out of the economic crisis, and calls on authorities to resign.  Boris Nemtsov, a former Deputy Prime Minister and Vladimir Milov, a leading energy expert, presented their report, titled "Putin and the Crisis," in Moscow on February 20th.
The white paper is a third in a series of analytical works investigating the outcome of former president Putin's time in office that the pair has written.  The earlier papers are Putin: Results, and Putin and Gazprom.
Nemtsov and Milov criticize the anti-crisis measures taken by the Russian government, marking them as absolutely ineffectual.  "Not one country has directed so much money to battle the crisis," Milov said, "and not one country has had a 20-percent drop in manufacturing."  Milov is concerned that the government's poor course of action may allow the crisis to completely "eat-away" the benefits of Russia's eight-year economic growth.
The authors reminded their audience that authorities, including Putin, President Dmitri Medvedev, as well as Deputy Prime Ministers Igor Shuvalov and Alexander Zhukov, repeatedly pledged to the public that there would be no devaluation of the ruble.  Despite the promises, the Central Bank repeatedly devalued the ruble in late 2008 and early 2009.
"Help from the budget is directed to a very narrow circle of corporations, who are completely disinterested in sending it on into the real sector of the economy," Milov added.
Small and medium business must be the locomotive of change that propels the Russian economy out of crisis, the economist said.  Large corporations cannot serve this role because they fundamentally depend on world market conditions for commodities, which are doing poorly.
Boris Nemtsov, in turn, underscored that "None of the anti-crisis measures can be implemented under conditions of a "vertical of power," which is busy attending to a narrow group of closely connected oligarchs.  Putin is the architect of this corrupt regime and he must leave."
Nemtsov and Milov said they do not consider President Medvedev to be an independent and significant figure, and said they do not hold any illusions about his liberal ideas.
The pair, who serve on the board of the Solidarity democratic opposition movement, also commented on the group's first demonstration, set to take place on February 21st.  Nemtsov expressed his confidence that authorities would only dare to disperse demonstrations with few participants.  If a wave of mass social protest took place, low level officials in law enforcement would refuse to exert violence on citizens, the two are convinced.
Solidarity will hold it's first street protest in Moscow on February 21st.  The event will take place by the Griboyedov monument at the Chisty Prudy Metro Station at 2:00PM.
To read the complete "Putin and the Crisis" report, currently available in Russian, visit Novaya Gazeta.