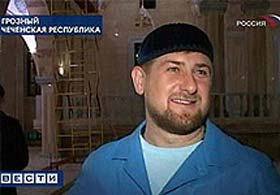 Chechen President Ramzan Kadyrov has limited sales of hard alcohol in the North Caucasus republic to just two hours a day.  As the RIA Novosti news agency reports, drinks containing more than 15 percent alcohol will only be sold from 8 to 10 AM.  During the Islamic holy month of Ramadan and other holy days, sales of alcohol will be banned entirely.
"I signed the order due to the fact that alcohol encourages the growth of criminality and immorality in society," Kadyrov said.
The law makes Chechnya the most restrictive region in Russia for alcohol sales.  Kadyrov's critics have said the president is turning the mostly Muslim region into a strict Islamic state.  Past orders include compelling women working in the government to wear headscarves and long skirts.
Mikhail Savchin, Chechnya's public prosecutor, said the bill does not contradict standing Russian laws.
"According to federal law, federal subjects have the right to impose limitations on the time when alcoholic products containing ethyl alcohol of more than 15 percent may be sold," Savchin said.  "The president's order does not contradict the law, but we must take into account all the minuses which may arise from restricted sales of spirits."
Savchin said the decree may lead to court cases against the government, as the public notes an effect on business and the local economy.  The public prosecutor said alcohol producers may lose business and that revenue may be lost as funds flow into neighboring regions with less restrictive laws.  The growth of illegal alcohol sales is also possible, he said.
Kadyrov dismissed criticism of the order, and said he had discussed the plusses and minuses of the edict with regional leadership, and that public opinion was on his side.  "I am convinced that there are far more plusses than minuses," he said.
"Everything that brings harm to society must be eradicated, that is my belief," Kadyrov told RIA Novosti.  "I am not against the outflow of cash into neighboring regions.  We will supplement our budget by other means, restoring agriculture, tourism, industry, sport.  We will produce high-quality cognac and wine so that those who drink will at least not damage their health.  Our mosques, gymnasiums and schools should be overflowing, not our alcohol stores."