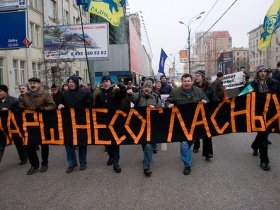 The Russian opposition will hold a Day of Dissent in Moscow and dozens of other cities across Russia on March 12th.  The protest is expected to draw thousands into the streets to protest the Russian government, and its response to the economic crisis.
Aleksandr Averin, a member of the executive committee of the Other Russia opposition coalition, said opposition events would take place in 20-30 cities.
In Moscow, the demonstration will take place by the Tverskaya metro station, starting at 7:00 PM local time.  Other locations would be published as they were finalized, the Other Russia press-service reported.
Averin said the Other Russia may not seek permission from the Moscow mayor's office, who have previously banned the protests and refused to sanction events put on by the group.  Organizers have called the behavior unconstitutional.
The first Day of Dissent took place on January 31st.  The group has also organized other protests, called Marches of Dissent since 2006.
The major slogans for the event are: "Putin must resign!"  "We have the right to protest!"  and "Enough lies!"