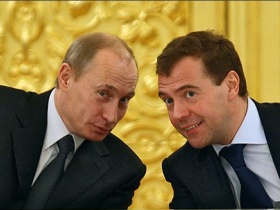 Russian President Dmitri Medvedev has ordered his staff to revise a controversial bill which would loosen the definition of treason.  The draft legislation, earlier backed by Prime Minister Vladimir Putin, had been met met with public outrage and criticism.  Opponents said the bill harkened back to the days of Soviet repression, and would give the government undue power to prosecute dissent.
"The head of state has taken a careful approach toward opinions that the media and society on the whole have expressed on this matter," Vladislav Surkov, the first deputy presidential chief of staff, said Tuesday, according to the Interfax news agency.
"Possibly there is a danger that the concepts of state secrets, high treason, and spying could be construed too broadly," he said. "The bill will be adjusted."
Political commentators were speculating whether Medvedev's choice to change the bill indicated a growing rift between Medvedev and Putin.
The legislation would have expanded the legal definition of crimes against the state, including espionage and treason.  Human rights activists had warned that the bill would give the state broad powers that could be used to target any government critic.  An open letter to Medvedev from leaders in the human rights community said the bill was "acting in the spirit of Stalin and Hitler."
Lev Ponomarev, director of the For Human Rights Movement, welcomed the decision.
"The president has heeded to the opinion of the civil society," he told Interfax.  "I think that this is a landmark and pivotal moment.
"We welcome this action and hope that it will not be the last time."