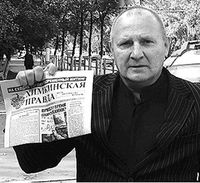 After nearly two months in the hospital and on the brink of death, the health of one Russian journalist and community leader is turning for the worse. Mikhail Beketov, who was violently assaulted outside his home on November 13th, is once again in critical condition, the Ekho Moskvy radio station reports, citing Yevgenia Chirikova, the leader of an environmental movement Beketov worked with.
Beketov, 50, has been receiving treatment at the Sklifosovsky Institute, a leading emergency hospital, but was moved into the intensive care unit Friday, Chirikova said. Relatives and friends were planning to have the journalist transferred to the Burdenko hospital, she added.
"We associate the worsening [of his condition] with the inadequate care he received in the ward where he was held," Chirikova said.
Beketov, who was hospitalized with trauma to the head and brain, was attacked so violently that he had to have his right leg and the fingers on his left hand amputated. He was initially in a coma, but regained consciousness on November 27th. An operation to remove skull fragments from his brain was postponed, as doctors were concerned that he may not recover from surgery.
Beketov published and edited the Khimkinskaya Pravda newspaper, which was known for exposing corruption and criticizing the municipal administration of Khimki, the Moscow suburb where he lives. Recently, the newspaper teamed up with environmentalists fighting to protect a large swath of forest slated for a controversial and expensive Moscow-St. Petersburg superhighway. Each issue published an investigative article on the subject.
Before his assault, Beketov had been threatened over the phone to keep quiet or face the consequences. Unknown men killed his dog. His car was blown up.
Since the attack, the hospital where Beketov was held received calls promising to "finish [him] off."
Yet the investigation into his assault has been marked by apathy on the part of police, who were at first reluctant to link the attack with Beketov's professional work. After a wide public resonance, the investigation was transferred to the Prosecutor General's Office, and it was reported that Prosecutor General Yury Chaika was personally keeping tabs on the case.
Since then, a former police officer turned criminal has been implicated as a suspect and sought for questioning.