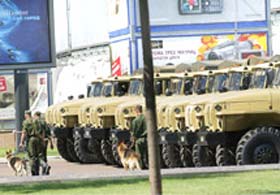 Police in Russia are worried that the economic crisis may lead to widespread public disturbances and crime. As the Nezavisimaya Gazeta reports, national guard forces are being sent to reinforce local militsiya in towns hit hard by sweeping layoffs. Towns with a single major employer, like Magnitogorsk and its metallurgical complex, are the primary focus of the relocation. The Magnitogorsk smelter has laid off some 3800 employees in the past three months, and 1000 more workers may lose their jobs in the near future.
Gennady Gudkov, the deputy chair of the State Duma Security Committee, told the newspaper that the effects of the crisis were constantly growing. "It could happen," he said, "that no amount of Internal Forces will be enough."
The main office of the Internal Forces, Russia's equivalent of a national guard, denied that troops were being moved. Interior Ministry press-secretary Vasily Panchenkov said enough units were already in place, but added that OMON special forces could be sent in if public meetings and demonstrations turned violent.
The paper also notes an increase in suicides related to job loss and the economic crisis.
On December 24th, the Levada Center polling agency published a new opinion survey, which indicates that more than 21 million Russians were prepared to join in mass-protests. The poll asked 1600 people in 46 regions about the likelihood that demonstrations would take place near where they live, and asked whether the respondent would join in the protest. 23 percent said protests were likely, and 20 percent said they would most likely participate, a slight increase from the first half of the year.