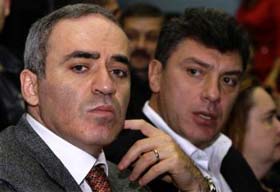 Garry Kasparov and other members of the Russian opposition met Friday and Saturday, finalizing a new movement which aims to peacefully dismantle what they describe as the illegitimate regime ruling Russia.
Around 200 delegates from over 40 Russian regions met in Khimki, on the outskirts of Moscow, electing a leadership council, finalizing the group's name, and selecting a song by Russian rocker Victor Tsoi as the movement's anthem. The group is named Solidarity, after the Polish movement which helped free that country from communism.
Kasparov, who chairs the United Civil Front party, said it was impossible to reform the Putin-Medvedev regime, and that it needs to be completely dismantled. The economic and financial crisis was putting Russia "on the edge of catastrophe," Kasparov said, adding that the Russian authorities would have trouble keeping power as economic problems grew.
Independent politician Boris Nemtsov urged participants to actively engage trade unions as a lever of influence. Rising unemployment as part of the economic crisis, Nemtsov said, was creating a new base of people who were more inclined to being politically active.
Solidarity encompasses Russian democrats of various stripes, including former members of the Union of Right Forces (SPS) party, human rights activists, and members of the Yabloko party. Human rights defender Valeriya Novodvorskaya called on the group to avoid past mistakes, and to cut close ties with leftist radicals and communists.
Delegates were met by hecklers from pro-Kremlin youth groups on both days of the meeting. The protesters lit smoke bombs and threw leaflets. Some dressed like monkeys and hurled bananas into the air.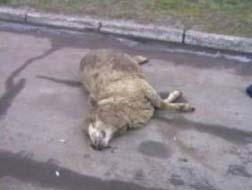 In a particularly sickening and cruel stunt, delegates arriving at the conference Friday found a group of youth releasing dying and wounded sheep into the street. The animals, wearing hats and shirts with the word "solidarity" on them, were violently thrown on the road from a bus. While the hecklers would not identify which group they represented, one of the Solidarity delegates recognized the young men as members of the pro-Kremlin Young Guard movement.
[Watch video of the provocation – YouTube (WARNING: graphic material].