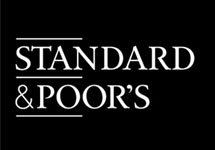 In the latest news item to predict a chaotic future for the Russian economy, the Standard & Poor's rating agency cut the country's debt rating (Rus) for the first time in a decade Monday. In a separate press-release, the agency also cut its rating of a series of companies connected with the government and regional authorities (Rus), including oil and gas heavyweights Gazprom, Transneft and Rosneft.
Russia's long-term foreign currency sovereign credit rating fell to BBB in the long-term, and A-3 in the short term, with a negative outlook. This means Russia is now just two notches above the "junk" category, and continuing adverse economic conditions could prevent Russia from meeting its financial obligations in the future.
The drop is tied closely with capital flows moving out of Russia, and with a sharp decline in Russian foreign currency reserves. The new ranking marked the first time Russia's sovereign rating had been cut since the escalation of the financial crisis.
Other ratings agencies have also lowered their forecasts for Russia's economy, warning of growing signs of trouble. Standard & Poor's has lowered its outlook twice in 2008, moving from "positive" to "stable," and ultimately to "negative."
—
Coverage from from the Wall Street Journal:

In a sign of how quickly the global crisis has reversed Russia's economic fortunes, Standard & Poor's cut the country's debt rating on Monday for the first time in a decade, warning of the "rapid depletion" of Russia's massive reserves.
…
Russia is now two notches above the "junk" category of high-yield bonds that ratings agencies consider speculative.
…
The agency warned that if oil prices remain low over the next two years, Russia will run through all of the $209 billion it has saved from its oil revenues in special rainy-day funds.
…
But officials have said as many as 200,000 jobs could be cut over the next two months, and many economists warn that the actual figure could be substantially higher.
A survey released last week by the Public Opinion Foundation found that almost a third of Russians said the economy is in crisis. Forty-one percent said their own economic situation had worsened in the past two or three months, the highest level this year. Ordinary Russians have scrambled to shift from rubles into dollars and euros, reversing hard-fought gains in confidence in the Russian currency. Central-bank data show that Russians bought a record $16.9 billion in foreign currency in October, the last month for which figures are available.
After growing at nearly 8% in the past two years, the economy is decelerating sharply: S&P warned that Russia's economy, measured in dollar terms, is likely to shrink next year. That would be a drastic turnabout from the decade of steady growth since Russia defaulted on its debt and devalued the ruble in 1998.