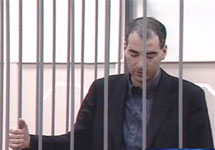 In a rare human rights victory in the Russian prison system, jailed Yukos attorney Vasily Aleksanyan has been released on bail. Aleksanyan, who fell gravely ill in prison, has been struggling to receive better medical attention.
As the RIA Novosti news agency reports, the Moscow city court set bail for 50 million rubles ($1.82 or €1.41 million) on Monday.
The former head of the Yukos legal department gained worldwide attention in January, when his health took a turn for the worse, and prison authorities were accused of denying him medical care. The executive suffers from HIV/AIDS and lymphoma, and contracted tuberculosis while in prison. He has since gone nearly blind.
Aleksanyan, who is serving a sentence for tax evasion and fraud, was finally moved to a clinic in February. He has since had three phases of chemotherapy, and has had his spleen removed. Throughout his trial and subsequent sentence, Aleksanyan has maintained his innocence, alleging that the charges against him were politically motivated.
The executive's legal victory marks one of the only successful trials for defendants connected to the Yukos oil company. Once Russia's largest oil producer, the firm was systematically dismantled starting in 2003, its assets sold off and its key figures imprisoned.
Other defendants, including former CEO Mikhail Khodorkovsky and Svetlana Bakhmina, have not had any luck in appealing their sentences.
In Aleksanyan's case, defense attorney Gevorg Dangyan's arguments stuck with those in the courtroom:
"It is evident to everybody that this person is suffering from grave oncological illness [cancer]," he said. "He needs to concentrate all of his physical and mental strength on the battle with this disease. There must be no other decision than to deny the extension of his pre-trial restrictions."