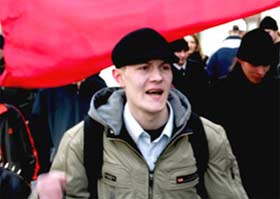 Krasnoyarsk, Russia.
On the Russian internet, speaking the wrong words can land you in jail. Denis Styazhkin, a young activist in this central Siberian city, learned this fact firsthand Thursday as he was arrested and sentenced to 15 days administrative arrest (Rus).
Styazhkin's alleged crime? Posting an image with curse words within a popular social networking website. Although truth be told, city authorities seemed most concerned that the unsavory text was addressed to a highly ranked public official.
The young activist explained the sequence of events. In late November, he advertised an upcoming protest on "V Kontakte," a Russian online network nearly identical to the US-based Facebook. The protest itself, which is scheduled for December 6th, has been sanctioned by the city. Shortly thereafter, militsiya officers visited Styazhkin and suggested that he remove an image located on the page describing the event.
The picture and corresponding text, which displayed as the event's avatar, have not been republished. Apparently, the image contained cursing addressed at someone with the same last name as a highly placed public official. Only the first letter, "P" has been made public, suggesting that the target was Prime Minister Vladimir Putin.
On December 4th, Styazhkin was summoned to his local police precinct, allegedly to discuss the upcoming protest. When the activist arrived, he was met by a justice of the peace, who charged him with "disorderly conduct," or breaking the peace in a public place. Styazhkin will now serve 15 days administrative arrest.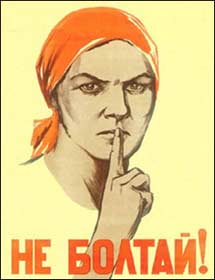 The part of the law used against Styazhkin has not previously been applied to the internet. Usually, it applies to improper behavior, such as rowdy public intoxication, in a physical location, like a sports arena.
Fellow activists in Styazhkin's movement, the Left Front, said the charge was absurd.
The actual protest will still take place on December 6th, and should not raise as much ire from officials. Demonstrators, who are speaking out against proposed changes to the Russian Constitution and asking for fair elections, will have another banner to rally. The first one that comes to mind is a Soviet propaganda poster showing a stern woman with a finger in front of her lips and the caption: "Keep your mouth shut!"