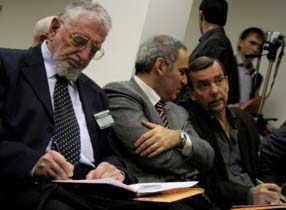 Around 350 politicians, activists and public figures gathered in Moscow Sunday to discuss the future of liberal democracy in Russia. As the Kasparov.ru online newspaper reports, the conference was put together by a new movement tentatively named "Solidarity."
The event was attended by opposition leaders and Kremlin critics including Garry Kasparov, Boris Nemtsov, Ilya Yashin and economist Vladimir Milov.
Kasparov, who heads the United Civil Front, said the conference was "small, but a victory," and asked participants to analyze the mistakes made by Russian democrats over the past 20 years. In the 1990s, he said, democrats "succumbed to the general euphoria, which then led to the current catastrophic situation." The major purpose of the new movement, Kasparov said, was to recreate an alternative political space.
"The authorities are afraid," he said, "when anyone steps out of the frame of the system they have formed. In the imitation of a political space created by the Kremlin, there is no left, no right, no liberals, no nationalists."
During his presentation, liberal politician Boris Nemtsov countered those skeptical about the new unified movement. "We were told: 'you will all bicker, you all want to be the leader,'" he said. "But we drew lessons from our mistakes. We will not have leaders, we will have collective leadership."
Nemtsov said the main goal of the democratic movement was to give the Russian public the right to choose their leaders once again. The Kremlin, he said, was trying to seize and hold power indefinitely. "One needs to understand that all attempts to change the Constitution today are attempts to make our country into something resembling Turkmenistan," he said.
The new movement will break from past attempts at uniting democratic forces, and will not have a single leader. Former Union of Right Forces chair Nikita Belykh explained that the movement would be decentralized, and would have "working branches" in dozens of Russia's regions. Belykh said that a political party could eventually emerge from the movement, but that such a step could only come far in the future.
The founding congress of the new movement will take place on December 13th. Representatives from around 40 Russian regions are expected to attend, and will vote on a final name for the movement and formally announce its formation.
—
Read about attempts to interfere with the conference (Rus)
Watch video from the conference (Rus)