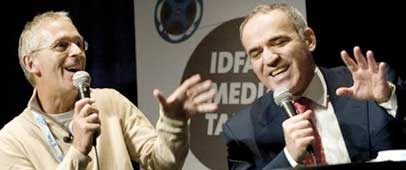 Heated words reverberated in a packed Amsterdam auditorium Saturday, as Russian opposition leader Garry Kasparov slammed Russian authorities. "Russia is an authoritarian state," Kasparov told the audience of a panel discussion at the International Documentary Film Festival. "We're not trying to 'win' elections, we're trying to 'have' elections," he went on.
Kasparov, the subject of a new documentary premiering at the festival, spoke passionately about declining press freedoms and a targeted Kremlin campaign to keep the Russian public in the dark. The latest example came in the form of a state order for journalists to stay silent on the economic crisis sweeping Russia, and quit "spreading rumors of panic."
After the discussion, which flared into a bright exchange between Kasparov and IDFA chairman Derk Sauer, Kasparov sat in on the premier of a new film titled "In the Holy Fire of Revolution." Directed by Masha Novikova, the film follows the protest movement against former President Vladimir Putin and Russian authorities over two years. Chronicling the constant struggle faced by the Russian opposition, the documentary then follows Kasparov's 2008 presidential campaign as new barriers are thrown in its way. Opposition figures are intimidated and arrested, pro-Kremlin Nashi youth meet and taunt activists at every turn, and pressure comes in from all sides.
As result of the growing pressure and intimidation, Kasparov was ultimately forced to drop his presidential bid.
While it is unlikely that the film will be shown widely in Russia, Novikova plans to screen it at International festivals in the country and at the Andrei Sakharov Museum and Civil Center. She is also submitting it to the Tbilisi, Georgia Festival in December.
"Now is a very good moment for Georgian people to see that, in Russia, we are also against the Kremlin", Novikova said Saturday. "We [in Russia] have had one hundred years when we were friends [with Georgia]. It cannot be that politics can make enemies of us."