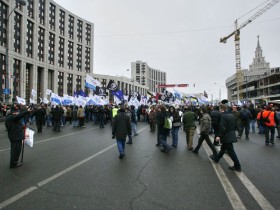 In early December, The Other Russia opposition coalition will hold a large-scale protest in Moscow, according to the group's executive committee.  The demonstration will continue a series of large-scale protests known as the "Marches of Dissent," which have drawn thousands of people into the streets since December 2006.
Marina Litvinovich, who serves on the committee, said the group is meeting to denounce the anniversary of the December 2007 Parliamentary elections, which have been described as illegitimate, both domestically and internationally.  The Other Russia and other independent groups have said that the elections, which gave the pro-Kremlin United Russia party a large majority of votes, were largely falsified.  (Read more about abuses at the polls).
Critics of the Kremlin as well as international observers have described similar violations during the March 2008 presidential election.
Since then, The Other Russia has formed the National Assembly, a sort of alternative Parliament for disenfranchised voices.  The group first met on May 17th, when some 700 delegates from 66 Russian regions met in Moscow.  (Read a declaration released by the Assembly)
—

Theotherrussia.org will be providing up-to-date information and coverage about planned opposition protests in Russia.  Stay tuned for details.