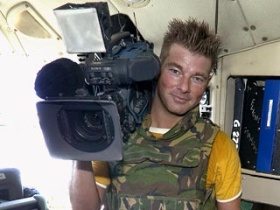 A report by the Dutch government has found that cameraman Stan Storimans was killed by a Russian cluster bomb, RIA Novosti reports. Storimans, 39, who worked for Dutch television, died in Gori, Georgia on August 12th.
According to the report, the journalist was killed by a five-millimeter metal ball which could only have come from weaponry used by the Russian military. The finding is based on forensic investigation and eyewitness accounts conducted by investigators sent to Georgia by the Netherlands Foreign Ministry. In addition to at least eight civilians who were killed during the Russian air strikes on Gori, another journalist, Israeli Zadok Yehezkeli, was also heavily wounded.
Maxime Verhagen, the Dutch Foreign Minister, said in a statement cluster bombs should not be used against civilian targets, and underscored that there were no troops in Gori.
The Minister has pledged to raise this question at the October 23rd meeting of the Organization for Security and Cooperation in Europe.
—
For more information on cluster bombs, and the international movement to ban their use, read a report from Human Rights Watch and watch a video from the Real News Network.