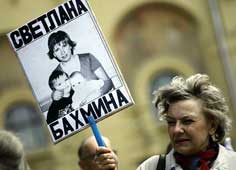 In part of a growing public sentiment in support of jailed lawyer Svetlana Bakhmina, over 50,000 people have signed an internet petition requesting a pardon from Dmitri Medvedev. Bakhmina, 39, a former attorney to the Yukos oil company, was denied early release, although she has served over half of her sentence, and is now seven months pregnant.
Bakhmina's case has received wide public attention, with public figures like human rights defender Yelena Bonner and former Soviet president Mikhail Gorbachev calling for her release. The complete petition follows below.
To read more about Bakhmina's story, read an account by journalist Grigory Pasko.

—

Help Svetlana Bakhmina
Dear friends. Svetlana Bakhmina, a Yukos attorney, was recently refused parole for the last of many times. Svetlana has served four years in a Mordovian [prison] colony, which is more than half of the term she received under articles 160 and 198 of the Russian Criminal Code. She has left two boys at home: seven-year-old Fedya and eleven-year old Grisha. Svetlana is now pregnant, in her seventh month. Usually, even our own court, which isn't always the most humane, agrees to parole in such cases or grants a postponement of the sentence until the children reach the age of majority. This time, something has broken. Reason, conscience, mercy have either bumped into the consecrated "Yukos affair," or else these ideas simply aren't frequent guests in the Zubovo-Polyanky court of Mordovia.
We can mourn, railing against the inhuman system in our kitchens, then just shrug our shoulders and continue living our lives, bringing up our children, working, having fun and just living with this. Or we can do something.
Let's appeal to the president with a letter. Even if you didn't vote for Dmitri Medvedev– he is the president of our country, and he has the constitutional right to pardon Svetlana.
An Appeal to the President of the Russian Federation
Esteemed Dmitri Anatolyevich!
We ask you to get involved in the situation which former Yukos lawyer Svetlana Bakhmina, convicted for six and a half years incarceration, has ended up in.
Half of Bakhmina's sentence was concluded as far back as May. This means she now has the right to parole. Those in the [prison] colony agree that she has earned it –and it's written in her personal record. She only had reprimands at the very start of her term, and they have since been lifted. In their place there are commendations. Recently, the colony's administration even granted her a leave.
Svetlana has two sons –one of them is seven, the other eleven. Also, she is pregnant and due to give birth in December. She is currently in the prison hospital. A court has twice refused to grant her parole…
Dmitri Anatolyevich, we understand that you cannot put pressure on the court. But you do have the right to pardon recorded in the Russian Constitution.
We, the undersigned, ask you to use this right.
You recently said, completely correctly, that signals are important in our country. We ask you, and this is very important, to pardon Svetlana, and give us the signal, to the whole country — "Citizens of Russia, civil servants, judges: be merciful, and don't forget a person behind the letter of the law!"
The appeal can be signed on www.bakhmina.ru.
translation by theotherrussia.org