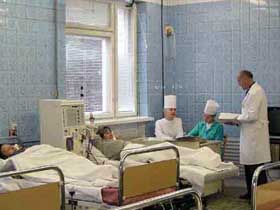 A local leader of a small political party in the south-central Russian city of Omsk wound up in the intensive care unit of a local hospital after he was detained by militsiya Thursday, RIA Novosti reports (RUS).  Vladimir Shirshov, a businessman who heads a branch of the Union of Right Forces (URF) party, was arrested in line with a police search of the Panorama-Center shopping center, which he owns.  Authorities said he has been wanted for questioning since the end of September.
The Union of Right Forces wrote in a statement on its website that Shirshov, who they said is medically classified as disabled, was in critical condition.  The businessman suffered a stroke last winter.
"During the day on October 16th," they write, "he was admitted to the intensive care unit in a coma, in a hypertensive crisis, with extensive inflammation of both sides of the lungs, in addition to all the conditions which accompany his disability."
Natalya Shavshukova, the Union of Right Forces press-secretary, wrote in her LiveJournal blog that Shirshov was taken in front on a court on Friday.  His trial has been closed to the public, as well as family and friends.
The businessman is being charged on two separate counts.  Authorities allege that the he deliberately drove into a traffic officer while behind the wheel on February 27th, then fleeing the scene.  He has also been charged with libel against the head of a local investigative department for an article he wrote in the Business Course magazine.
Shavshukova wrote that the charges have been trumped up, and that Shirshov was being targeted in part because of his political affiliations, and because he refused to give officers a bribe.  She told the Kommersant newspaper that police improperly seized critical party documents form Shirshov's office when they detained him.
"A person is being physically annihilated," she wrote in her blog, "first of all because he owns land and a business in the city center and doesn't want to hand it over, and secondly, because he dares to be a member of the URF.  Moreover, he is anything but a radical.  The man simply want to fairly practice business and politics.  If he backed the United Russia [party], there would be no such problems."
Authorities denied that there was any political undertone in the case.