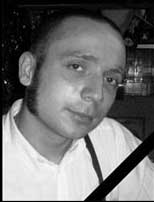 A young activist involved with a Russian anti-fascist movement has been killed in the country's capital, the Interfax news agency reports (RUS). 26-year-old Fedor Filatov died in an area hospital on October 10th from multiple knife wounds sustained early that morning.
A representative of the Antifa movement said Filatov, known in the movement as "Nok," was jumped by a group of assailants near him home as he went to work. "According to our information, four to eight people armed with knives were waiting for him in his courtyard," he said.
The source said that a Russian neo-nazi group had already claimed responsibility for the murder on an internet forum as recently as October 12th. While a murder investigation has been launched, law enforcement officials had yet to verify that information.
The Antifa source said the movement considers Filatov's murder a "planned action" by extremists. "There is not a shadow of a doubt that he died for his beliefs," the group's members wrote in a statement.
Russia has seen a growing presense of neo-nazi and extreme nationalist organizations in recent years, and attacks on immigrants and non-ethnically Russian people have become more common.  Immigrant community leaders have meanwhile accused authorities and law enforcement of being too lenient in pursuing ethnically motivated crimes.
Groups like Antifa have stepped in to try to counter the growing influence of neo-nazis and denounce their racist and violent activities.  Filatov himself helped to found the Moscow Trojan Skinheads, a group described as "a community of anti-political, anti-racist skinheads from Moscow and the Moscow Oblast."
Filatov was not the first anti-fascist activist to be attacked and killed in recent years.
In November 2005, vocal activist and musician Timur Kacharava, 20, died from knife wounds in St. Petersburg. In April 2006, 19-year-old Alexander Ryukhin was killed by six neo-nazis outside a punk-rock concert. In January 2007, Ivan Yelin was stabbed 20 times by unidentified attackers on the outskirts of St. Petersburg. In March of this year, 16-year-old Alexei Krylov died in Moscow after a group of 15 neo-nazis armed with knives attacked 7 young people near the Kitai Gorod metro station.
Each young man had taken part in the Russian anti-fascist movement.
—
Watch "From Russia With Hate," a short documentary on neo-nazism in Russia, from Current-TV.