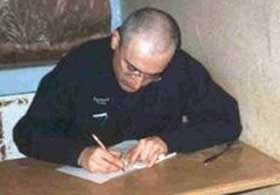 Mikhail Khodorkovsky, the former head of the Yukos oil company who is serving time for tax evasion and fraud, was placed into solitary confinement in his Chita detention center on October 9th.  As Khodorkovsky's press-center reports, the jailed executive will remain in isolation for 12 days, allegedly for granting an interview with the Esquire magazine.
Prison authorities allege the Khodorkovsky broke the rules of receiving and exchanging letters, and claim that these violations allowed Esquire to publish a discussion between Khodorkovsky and author Boris Akunin.
Khodorkovsky's defense, meanwhile, came out with a statement claiming the charges are false.  "Mikhail Khodorkovsky did not write or receive any "illegal" letters," their statement reads, "so there is not a scrap of proof that he violated this ban [on letters]."
The legal team added that prisoners have a right to speak with their legal defenders.  Attorneys are allowed to read any documents to the prisoner, and write down what they consider important for the defense from the inmate's responses.  Authorities from Russia's prison service publicly admitted that this is the case as recently as 2004, and dozens of similarly published articles have appeared since then, the attorneys said.
In the coming week, Khodorkovsky was due to appear at an appeals trial to protest a decision to deny him early release on parole.  His defense thought the upcoming trial may have more to do with his isolation than any interview:  "Mikhail Khodorkovsky's punishment over non-existent violations on the eve of a court session on the matter of his parole has already become an unkind tradition created by the prison administration," his lawyers said.
The attorneys said they were considering launching a lawsuit against prison officials for "a series of similar suspicious and discriminatory acts relating to Khodorkovsky."
In December 2006, new charges were filed against Mikhail Khodorkovsky and his partner Platon Lebedev.  The two were then transferred from the penal colony they was serving in to the China pre-trail detention center.  The second criminal case against the businessmen alleges that they laundered 450 billion rubles and 7.5 billion dollars in the period from 1998 to 2004.  "According to the investigation's version of events, they stole all the oil extracted by Yukos," said Yury Shmidt, one of Khodorkovsky's lawyers.
Both Lebedev and Khodorkovsky maintain their innocence.
A group of the Yukos executive's supporters have started a hunger strike (Rus) to protest his isolation.