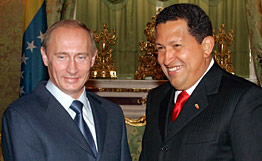 Russia is prepared to cooperate with Venezuela on nuclear energy, and hopes to expand relations in all spheres, Russian Prime Minister Vladimir Putin said Thursday. Putin was host to Venezuelan President Hugo Chavez in his residence on the outskirts of Moscow, the RIA Novosti news agency reports.
Putin stressed the "strengthening cooperation in all spheres," that has taken place between the two nations, including energy, heavy industry and high technology. The premier also touched on a new drilling project, led by Russian natural gas monopoly Gazprom, and set to start in late October in the Gulf of Venezuela.
"[W]e are ready to discuss military-technical cooperation," Putin added.
The premier also thanked Chavez for the "warm welcome" that he lent Russian strategic bombers, who led a training mission in Venezuela. He also noted that both sides were intent on meeting their commitments for military partnerships, and reminded the audience that a Russian fleet was on its way to the Caribbean for joint exercises.
Earlier on Thursday, it came public that Russia would be providing Venezuela with credit to purchase Russian arms in the sum of one billion dollars. From 2005 to 2007, Venezuela signed deals worth a total of 4.4 billion dollars for Russian military technology.
On Friday, Chavez left Moscow to meet Russian President Dmitri Medvedev in the southern city of Orenburg, near Kazakhstan. There, the talks turned once more to energy cooperation, as the two countries signed oil and gas deals.