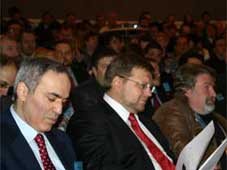 Writing for the Wall Street Journal, Russian opposition leader Garry Kasparov comments on the war between Russia and Georgia, blaming the West for letting Russia slip into authoritarianism.
"Russia's invasion," he writes, "was the direct result of nearly a decade of Western helplessness and delusion."

—
How the West Fueled Putin's Sense of Impunity
By GARRY KASPAROV
August 15, 2008; Page A13
Russia's invasion of Georgia reminded me of a conversation I had three years ago in Moscow with a high-ranking European Union official. Russia was much freer then, but President Vladimir Putin's onslaught against democratic rights was already underway.
"What would it take," I asked, "for Europe to stop treating Putin like a democrat? If all opposition parties are banned? Or what if they started shooting people in the street?" The official shrugged and replied that even in such cases, there would be little the EU could do. He added: "Staying engaged will always be the best hope for the people of both Europe and Russia."
The citizens of Georgia would likely disagree. Russia's invasion was the direct result of nearly a decade of Western helplessness and delusion. Inexperienced and cautious in the international arena at the start of his reign in 2000, Mr. Putin soon learned he could get away with anything without repercussions from the EU or America.
Russia reverted to a KGB dictatorship while Mr. Putin was treated as an equal at G-8 summits. Italy's Silvio Berlusconi and Germany's Gerhardt Schroeder became Kremlin business partners. Mr. Putin discovered democratic credentials could be bought and sold just like everything else. The final confirmation was the acceptance of Dmitry Medvedev in the G-8, and on the world stage. The leaders of the Free World welcomed Mr. Putin's puppet, who had been anointed in blatantly faked elections.
On Tuesday, French President Nicolas Sarkozy sprinted to Moscow to broker a ceasefire agreement. He was allowed to go through the motions, perhaps as a reward for his congratulatory phone call to Mr. Putin after our December parliamentary "elections." But just a few months ago Mr. Sarkozy was in Moscow as a supplicant, lobbying for Renault. How much credibility does he really have in Mr. Putin's eyes?
In reality, Mr. Sarkozy is attempting to remedy a crisis he helped bring about. Last April, France opposed the American push to fast-track Georgia's North Atlantic Treaty Organization membership. This was one of many missed opportunities that collectively built up Mr. Putin's sense of impunity. In this way the G-7 nations aided and abetted the Kremlin's ambitions.
Georgia blundered into a trap, although its imprudent aggression in South Ossetia was overshadowed by Mr. Putin's desire to play the strongman. Russia seized the chance to go on the offensive in Georgian territory while playing the victim/hero. Mr. Putin has long been eager to punish Georgian President Mikheil Saakashvili for his lack of respect both for Georgia's old master Russia, and for Mr. Putin personally. (Popular rumor has it that the Georgian president once mocked his peer as "Lilli-Putin.")
Although Mr. Saakashvili could hardly be called a model democrat, his embrace of Europe and the West is considered a very bad example by the Kremlin. The administrations of the Georgian breakaway areas of Abkhazia and South Ossetia are stocked, top to bottom, with bureaucrats from the Russian security services.
Throughout the conflict, the Kremlin-choreographed message in the Russian media has been one of hysteria. The news presents Russia as surrounded by enemies on all sides, near and far, and the military intervention in Georgia as essential to protect the lives and interests of Russians. It is also often spoken of as just the first step, with enclaves in Ukraine next on the menu. Attack dogs like Russian nationalist politician Vladimir Zhirinovsky are used to test and whip up public opinion. Kremlin-sponsored ultranationalist ideologue Alexander Dugin went on the radio to say Russian forces "should not stop until they are stopped." The damage done by such rhetoric is very slow to heal.
The conflict also threatens to poison Russia's relationship with Europe and America for years to come. Can such a belligerent state be trusted as the guarantor of Europe's energy supply? Republican presidential candidate John McCain has been derided for his strong stance against Mr. Putin, including a proposal to kick Russia out of the G-8. Will his critics now admit that the man they called an antiquated cold warrior was right all along?
The conventional wisdom of Russia's "invulnerability" serves as an excuse for inaction. President Bush's belatedly toughened language is welcome, but actual sanctions must now be considered. The Kremlin's ruling clique has vital interests — i.e. assets — abroad and those interests are vulnerable.
The blood of those killed in this conflict is on the hands of radical nationalists, thoughtless politicians, opportunistic oligarchs and the leaders of the Free World who value gas and oil more than principles. More lives will be lost unless strong moral lines are drawn to reinforce the shattered lines of the map.
Mr. Kasparov, leader of The Other Russia coalition, is a contributing editor of The Wall Street Journal.