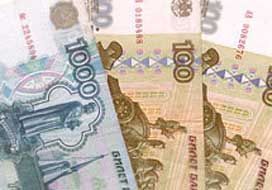 Russia's Ministry of Economic Development and Trade has raised the upper end of its inflation outlook from 10.5 to 11.8 percent for 2008. The RIA Novosti news agency reported the news, citing a source within the agency.
Last week, the Ministry sent updated predictions to the Ministry of Finance, based on macroeconomic indicators from the current year to 2011. The data will be cross-checked and forwarded to the Government.
"The inflation prognosis for 2007 was also raised to 7.5-8 percent," the source said.
Russia's government has had trouble dealing with rising inflation, which has accelerated sharply since last fall.
According to Rosstat, Russia's statistics agency, inflation has numbered 8.7 percent for the first half of 2008.