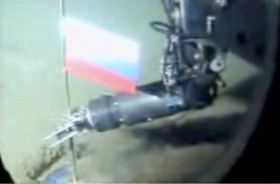 Russian President Dmitri Medvedev signed a law Friday which determines how the country's underwater Arctic resources will be tapped, Prime-Tass reports. The law, approved by the State Duma on July 4th and the Federation Council on July 11th, empowers the government to hand-pick companies to develop resource extraction on the continental shelf.
Vast reserves of oil and other mineral resources are thought to lie under Arctic waters, and may become more accessible as global warming continues. According to the new legislation, permits to develop plots of the continental shelf will be handed out directly by the government without auctions or tenders.
"The continental shelf is our national heritage," Medvedev said, most likely indicating that development of the Arctic will be left to Russian state-run companies.
Commenting on the cancellation of auctions in the Arctic development plan, Medvedev underscored that "This was done consciously to ensure rational use of this national wealth."
Russia has moved to assert control over underwater territory. In August 2007, Russian scientists led an underwater geological investigation that tested soil samples and determined that a mountain range in the Arctic Ocean could be considered Russian territory. The surrounding area is thought to contain some 25 percent of the world's undiscovered oil and gas resources. A later expedition found that the range was connected to the Russian continental shelf, and planted a Russian flag underneath the North Pole.
A recent report by European Union experts has suggested that Russia will clash with Europe over arctic resources in the near future. Analysts from the United States, meanwhile, testified before Congress that the US is falling behind Russia in the "Arctic race."