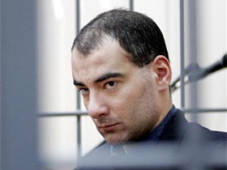 A Moscow court has extended the arrest of Vasily Aleksanyan, a gravely ill executive who was once vice-president of the YUKOS oil company. As RIA Novosti reported on July 18th, Aleksanyan will remain in custody until October 23th.
The former executive, who suffers from AIDS and cancer, was transferred to a Moscow clinic in February, after widespread protests at the way he was being treated. Aleksanyan had complained that he was being denied medical treatment, and blackmailed into testifying against other former YUKOS bosses.
Aleksanyan, who maintains his own innocence, is accused of embezzlement, money laundering, and tax evasion. He is one of a number of former YUKOS executives behind bars after the company was seized and dismantled by Russian authorities for tax evasion.
The initiative to extend his term was proposed by the court itself.
—
Related Articles:
Jailed Executive Dying in Prison
Stop the Savage Justice Against Vasily Aleksanyan!
Russian Authorities Pledge to Transfer Aleksanyan
Background on YUKOS from Fortune Magazine