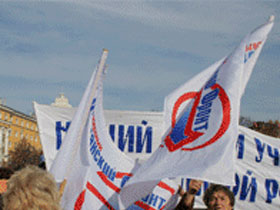 The United Civil Front (UCF), the Russian opposition party led by Garry Kasparov, is planning nationwide protests for July 19th. As the Sobkor®ru news agency reported on Tuesday, organizers said the demonstrations were intended to support the first political prisoners from the organization, Andrei Grekov and Valery Bychkov.
Protest organizers have filed notices in Moscow, St. Petersburg, the Oryol oblast, the Vologda oblast, the Komi Republic, the Tver oblast, the Vladimir oblast, the Tomsk oblast, the Buryat Republic, the Ulyanovsk oblast, the Republic of Mordovia, and the Kurgan oblast. So far, only Oryol has granted a permit. Solitary pickets, which do not require notifying authorities, will be held in other regions.

Grekov, a UCF activist from the south-western city of Rostov-on-Don, was sentenced to two years in a penal colony on May 16th, after he was found guilty of illegally storing ammunition. On November 26th 2007, the opposition activist's apartment was searched in line with an investigation of a local UCF leader, Boris Batya, who was accused of using pirated software. Officers claimed that they discovered cartridges in the apartment, and Grekov was subsequently arrested and tried. On July 19th, Grekov will celebrate his thirty-seventh birthday.
Valery Bychkov, the leader of the Penza branch of the UCF and a deputy in the Penza City Duma, is currently being held in a prison hospital, awaiting trial for failing to act out a court order. The case stems from 2006, when Bychkov raised questions about why public funds were being used to pay for the legal education of a local businessman, A.V. Yermin. Bychkov filed several inquiries to the Prosecutor General's Office, the Ministry of Justice and the Ministry of Internal Affairs. A court found that these actions were an abuse of rank, and ordered Bychkov to apologize, which the opposition politician refused to do.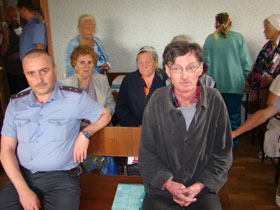 Bychkov then heard nothing about the affair until July 2nd 2008, when he was arrested at an area hospital where he was receiving care. The UCF leader was taken to a pre-trail detention center, and was then hospitalized in the clinic at a local prison colony.
Bychkov's condition has apparently worsened in the prison hospital, and he has complained that necessary medications have not been provided. The opposition leader's July 16th court hearing was interrupted several times, and the judge was forced called for an ambulance at two points.