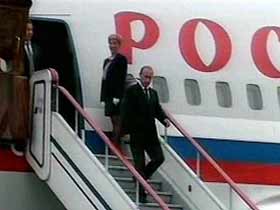 Authorities in the northern city of Arkhangelsk have been preparing in earnest for a visit by Prime Minister Vladimir Putin. In hopes of making a good impression, trash has been swept clear, streets repaved, curbs painted, signs and streetlights washed and fresh flowers planted.
Local media have picked up on the rush to beautify the parts of the city Putin will visit, and have started asking hard questions about where the funding is coming from. The RUSNORD Information Agency guessed that Putin wouldn't be taken to the less polished, crumbling parts of town, and wagered the former president would pick up on signs of a "Potemkin village."
As an apparent response, city authorities have decided to pressure the media into silence. As Newsru.com reports(Rus), officials are forcing local publications to cease publishing negative reports about authorities and the city.
One local newspaper leaked the story, alleging that law enforcement officers representing the city are walking door to door, compelling editors to sign a statement. The document, available online(Rus) reads:
"In connection with a working visit by RF Prime Minister V.V. Putin and the RF Minister of Internal Affairs R.N. Nurgaliev to the city of Arkhangelsk over the period from 07.07.07 to 07.15.08, I pledge not to take orders for the publication of printed materials containing negative information regarding public authorities of all levels, as well as information that could lead to the creation of a tense atmosphere among the public."
Putin is scheduled to arrive on July 11th. His plans include a visit to two area shipyards. He will also meet with local government authorities and representatives of the security ministries.