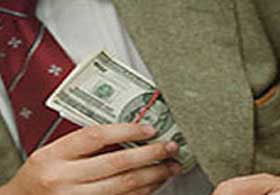 Russia has fallen into the ranks of the world's most corrupt countries, according to the latest ranking by Transparency International.
The international watchdog's newest "Corruption Barometer" report finds that Russia has slipped from 120th to 143rd place, out of a total 160 countries. As RIA Novosti reports, Russia received a rating of 2.3 on a 10 point scale, equating it with countries like Gambia, Indonesia and Togo.
Other countries of the former Soviet Union, including Belarus and Central Asian states like Kazakhstan and Uzbekistan, ranked even lower. On the other end, the list is predictably topped by countries in Northern Europe and Scandinavia. Canada also falls into the top six.
The rating is a result of public opinion polls taken by independent pollsters around the world.
Alexander Rahr, the program director for Russia and the CIS at the German Council on Foreign Relations, told the Gazeta newspaper that the results were accurate: "The situation in Russia is getting worse," he said. "One of the main reasons for this, in my view, is the flawed judiciary: judges are bribed and intimidated, all decisions are made via phone calls, so the courts aren't working properly."