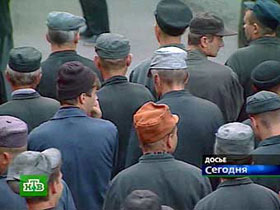 The past week has been tumultuous for the Russian prison system, with inmate protests sprouting up around the country. Theotherrussia.org provides a roundup of news stories coming out of Russia's prisons and penal colonies, which are notorious for cruel treatment and arbitrariness.
—
In south-central Ural city of Chelyabinsk, four inmates died of their wounds on May 31st, after they were severely beaten by prison guards. As the ITAR-TASS news agency reported, officials said the prisoners attacked guards during a morning exercise walk, and prison authorities retaliated with rubber batons. The prisoners were put in separate cells, and were beyond saving when medical personnel were called in later that evening. A criminal investigation has been started, but the head of Russia's prison service, Yury Kalinin, said the use of force was justified.
"Maintaining discipline is the top-most priority of the penal system's workers," he said in a press-release, as quoted by RIA Novosti, "and that's why they were forced to use clubs. Furthermore, the inmates weren't unarmed themselves."
—
In the northern Arkhangelsk oblast, around 50 prisoners went on hunger strike on June 1st, according to the Regnum news agency. The inmates, held in a prison medical facility for tuberculosis patients, complained of substandard food, improper medical care, and treatment they said was becoming more severe. Prison officials said that everything was in order and said the inmates simply wanted to avoid serving their sentences. A majority have since called off their protest.
—
In a maximum-security penal colony in the central Ural Sverdlovsk oblast, prisoners staged a mass hunger strike on June 3rd to demand better access to the prison store. As RIA Novosti reports, the inmates are currently limited in how much they can spend there. Aside from purchasing items at the store, inmates of maximum-security facilities are allowed to receive one package and one small postal parcel each year. Local officials called the protest illegal.
Prisoners at another penal colony in the city of Dimitrovgrad, Ulyanovsk oblast also went on hunger strike. According to the Sobkor®ru news agency, the protest started on May 29th, and was already in its sixth day as of June 3rd. The inmates, part of a special unit for former militsiya officers, say authorities have withheld parcels and items sent by family.
—
The head of the security division of penal colony in the Republic of Mordovia was sentenced to four years behind bars, after he was found guilty of beating two inmates. As the Sobkor®ru news agency reported on June 4th, Yevgeny Oshkin invited the two prisoners into his office one at a time, and stuck them repeatedly with a club. In addition to jail time, Oshkin is barred from working in any capacity with prisoners for two years.
The Republic's regional prison administration is currently experiencing a workforce shortage in its 17 penal colonies and 3 pretrial detention centers. As a consequence, some 60 percent of prison guards in the Republic are women.