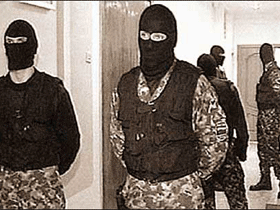 The Moscow offices of Russia's largest radio holding company, the Russian Media Group (RMG), have been raided by law enforcement officers. Simultaneously, one of their radio programs, the Russian News Service (RSN) was taken off the air.
As the Gazeta.ru online newspaper reports, officials from both the company and law agencies denied a search was taking place, although unofficial sources said that law enforcement officers were investigating tax evasion charges.
An unnamed source within the RMG leadership spoke with the Interfax news agency: "I don't know exactly what happened with the broadcast of the RSN [program], but the UBOP [the Directorate for Combating Organized Crime] has been in the RMG [offices] since 11 in the morning."
The editor-in-chief of the Russian News Service, meanwhile, said on Ekho Moskvy radio that his program was cut over technical problems. He denied that any raid was taking place.
The Russian Media Group is the country's largest FM radio conglomerate, and its programs are heard nationally. Some of its major products include Russian Radio, the Russian News Service, Radio Monte-Carlo, DFM (previously Dinamit FM), and Maximum. In addition to broadcast service, the Group also owns a major record label, Grammofon Records, and the Grammofon advertising agency.