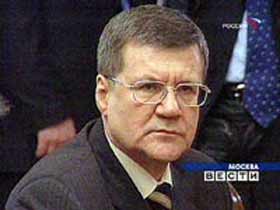 The Russian Prosecutor General's Office is working out a strict new system for dealing with misconduct on the part of public prosecutors and investigators, the RBK business daily reports (RUS). Yury Chaika, the Prosecutor General, explained that his Office wants to curb the thousands of unlawful criminal cases launched against Russian citizens each year.
"Every year, as result of overt flaws in the work of investigative authorities, the amount of persons unlawfully put on trial numbers in the thousands," he said, speaking before an meeting of high-ranking legal and security officials. Thus, 5265 people were fully exonerated of charges wrongly filed against them in 2007.
"It's self-evident that the reason for this lies in negligent investigation of criminal cases, instituted without sufficient grounds, while charges are often based only on testimonies of witnesses," Chaika continued.
As the Prosecutor General explained, illegal prosecutions are costing the country millions of rubles. In 2007, in just 32 regions, some 94 million rubles ($4.08 or €2.59 million) were paid from the federal budget to claimants seeking compensation from the government for unlawful imprisonment and prosecution. "If we take Russia as a whole, the figure will be higher by an order," Chaika said. Additionally, the European Court of Human Rights deemed that 4.3 million euros must be paid back in Russia for similar compensation lawsuits in 2007.
To combat the problem, Chaika said that prosecutors and investigators "must be held responsible" for unprofessional behavior and mistakes. He also explained that the authorities responsible for false prosecutions must be made to apologize.
"Violations in this sphere may entail the greatest harm to a man's destiny," he noted.