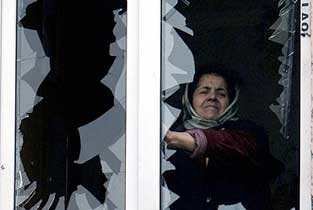 Amnesty International, the global human rights watchdog, has called on world leaders to apologize for continuing human rights failures, 60 years after the adoption of the Universal Declaration of Human Rights. At a Moscow press conference on May 28th, the group's regional director for Europe and Central Asia, Nicola Duckworth, urged world powers to commit to a human rights agenda. In her words, many governments have recently begun to abuse their powers, moving away from upholding human rights in favor of their own political interests.
The press-conference coincides with Amnesty International's annual "State of the World's Human Rights" report, and the 60th anniversary of the Universal Declaration of Human Rights. Duckworth said that the political landscape and power distribution has changed drastically since 1948, when the Declaration was enacted, largely as result of the dozens of new states formed around the world.
According to the human rights defender, the United States, as the world's most powerful nation, sets the standard for the behavior of global governments. In doing so, US authorities have done everything in their capacity to weaken the prohibition of torture and other forms of cruel treatment, the group believes.
"Hundreds of prisoners of Guantanamo and Bagram, and thousands of detainees in Iraq are still being held without trial or investigation," Duckworth said. Many of the imprisoned have been behind bars for upward of six years, she noted. "Furthermore, the US government has not taken any steps to make employees of the US secret services or military serving in Iraq and Afghanistan fully accountable for their actions," Duckworth added.
Russia was also highly criticized in the group's report. Major problems include a crackdown on political dissent, pressure on journalists, ethnic violence and new measures of legislative control over nongovernmental organizations.
One of the group's Russia researchers, Fredericka Ber, said that serious violations were recorded in recent years, and that Russian citizens now have difficulty expressing their civic and political rights.
She noted that peaceful demonstrations have been dispersed with force; that attorneys, human rights activists and journalists have received threats; that the Russian judicial system is subject to pressure from the executive branch. She added that corruption constantly trumps the rule of law, and diminishes public trust in the judicial system.
Ber said that human rights activists in Russia have sent a memorandum on human rights to president Dmitri Medvedev, calling on him to do his part in improving the situation in the country. She said that Amnesty International will continue to observe how well Medvedev sticks to the promises he made in his inaugural address.
Amnesty International's yearly report describes human rights violations in 150 countries. The publication calls on all nations, regardless of their political system, to comply with human rights accords.