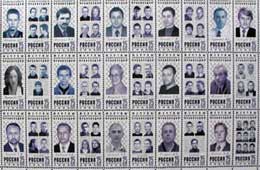 Some of Russia's most prominent human rights activists have written an open letter urging President Dmitri Medvedev to free political prisoners. The letter was presented at a May 22nd press-conference in Moscow, and was hand delivered to the Executive Office of the president.
Attached to the letter is a paper providing more detail (RUS) on the names mentioned in the letter. The open letter is currently gathering signatures online (RUS).
A complete translation follows.
—
An open appeal of human rights activists to Dmitri Medvedev
Mr. President!
During the presidential election campaign you repeatedly stressed how important the principles of rule of law were for Russia. We could not help but take notice of your words, which also correspond to what we view as a priority.
In our earnest conviction, politically motivated criminal prosecutions and politically motivated court sentences are in violent contrast with the the principle of rule of law.
This is precisely why we are calling on you to pardon those people, who became, in our opinion, the victims of politically motivated persecution, and to do all that is in your power to ensure that they are granted liberty.
As a first step, we call on you to pardon the following citizens of the Russian Federation:
Danilov, Valentin Vladimirovich. CC RF [Criminal Code of the Russian Federation] Article 275, sentenced to 13 years standard confinement regime. [Wikipedia entry on Danilov's case]
Sutyagin, Igor Vyacheslavovich, CC RF Article 275, sentenced to 15 years standard confinement regime. [Wikipedia entry on Sutyagin's case]
Reshetin, Igor Andreevich , academic of the Space Technology Academy, general director of the TsNIIMash-Export closed joint-stock company (sentenced to 11.5 years maximum security regime), his deputy chief of security Alexander Rozhkin, chief economist Sergei Vizir, and Mikhail Ivanov, the head of one of the departments of the TsNIIMAsh Federal State Unitary Enterprise – sentenced from 5 to 11 years incarceration. [Read more about the TsNIIMash case and its victims from the Novaya Gazeta (ENG)]
Khodorkovsky, Mikhail Borisovich, sentenced to 8 years incarceration in standard confinement.
Lebedev, Platon Leonidovich, sentenced to 8 years incarceration in standard confinement.
Pichugin, Aleksei Vladimirovich, sentenced to life imprisonment.
Aleksanyan, Vasily Georgievich, Executive Vice-President of YUKOS with presidential powers. On 04.06.2006 Moscow's Simonov district court discerned material evidence of an offense in Vasily Aleksanyan's actions, and gave consent to the Prosecutor-General's Office to start a criminal prosecution of the Executive Vice-President. Later that same day, Vasily Aleksanyan was detained, and the Russian Federation's Prosecutor-General's Office charged him on two articles of the Criminal Code: legalization [or] money laundering (part 4 article 174.1) and appropriation or embezzlement, that is, stealing another's property (article 160). On 04.07.2006 the Basmanny regional court sanctioned the arrest of Vasily Aleksanyan. He is currently hospitalized under guard.
Bakhmina, Svetlana Petrovna, a deputy chief of the Yukos legal department, arrested 12.07.2004. Sentenced to 8 years standard confinement regime.
Murtazalieva, Zara, born 1983, insurance broker, 3rd year student of the Linguistics University of Pyatigorsk, a native of the Naursky region of the Chechen Republic, was arrested March 4th 2004 in Moscow. Convicted of intending to commit a terrorist act, and sentenced to 8.5 years. [Read More about Murtazalieva's case from the Memorial Human Rights group]
Talkhigov, Zaurbek Yunusovich, born 1977, native of the village of Shali, in the Shali region of the Chechen-Ingush Autonomous Soviet Socialist Republic. Was sentenced to 8.5 years incarceration for attempting to aid in the release of hostages from the Theater Center at Dubrovka in October 2002. [Read more about Talkhigov's case from the Caucasian Knot / Memorial]
By Russian law, the President of the RF may pardon a prisoner without requiring him to admit his own guilt.
We are familiar with the prosecuting circumstances of every one of the listed prisoners, and have solid grounds to assert that political considerations determined their prosecutions.
We have brought forth a far from complete list of Russian political prisoners, selecting those that have the longest [prison] terms and whose prosecution received the greatest public attention. It is clear that other prisoners, who we consider to be political, did not make the list. In particular – members of the Other Russia coalition (at the present moment – 14 people), a series of businessmen, and others.
We hope that the procedure of pardon extends to them as well.
Mr. President, by starting your presidential term with the pardoning of political prisoners, you will open a new page in Russian history, restoring the hope of an independent judiciary, which is so lacking in Russia.
L.M. Alekseeva, Moscow Helsinki Group
S.A. Gannushkina, "Civil Assistance" Committee
S.A. Kovalev, A. Sakharov Foundation
L.A. Ponomarev, "For Human Rights" Movement
Yu.A. Ryzhkov, academic of the Russian Academy of Sciences
Yu.B. Samodurov, A. Sakharov Museum and Civic Center
A.K. Simonov, Glasnost Defense Foundation
E.I. Cherniy, Public Committee for the Protection of Scientists
G.P. Yakunin, Public Committee for the Protection of Freedom of Conscience
Appeal supported by:
N.Yu. Belykh, chairman of the federal political advisory committee of the Union of Right Forces party
Vaclav Havel, former president of Czechoslovakia and the Czech Republic, recipient of the Nobel Peace Prize
Andre Glucksmann, philosopher
Rudolph Bindig, honorary member of the PACE, former deputy of the [German] Bundestag
Lord Frank Judd

Translated by theotherrussia.org.