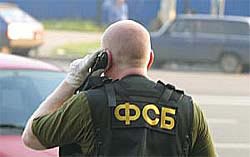 Draft legislation introduced into the Russian Parliament could give the country's security services the right to listen in on mobile telephone calls. As the state-owned Rossiyskaya Gazeta reported on May 20th, the legislation would also allow security service, militsiya and customs agency officers to ask service providers to cut the line of communication if there is a danger to the life or health of a citizen. The line may also be disconnected in cases where the state, military, economic or ecological safety of the country is threatened.
Beyond that, agencies leading an investigation will have the right to ask mobile telephony providers for information on their users, including their IMEI numbers, an identity feature built into every mobile device.
The bill was introduced to Russia's lower house, the State Duma, and would need to clear three readings before heading to the Federation Council, the upper house, and ultimately the president's desk.
A similar bill was put forth in the legislature of the Russian Republic of Tatarstan. Authorities there said the draft law is "aimed at lowering the number of crimes connected with stolen instruments of cellular communication."
At the present, mobile telephone providers have the option to refuse requests from the security services, and may decide whether to cooperate on a case by case basis. If the company denies a request, officials are forced to go through the judicial system and appeal before obtaining records or listening in on conversations.