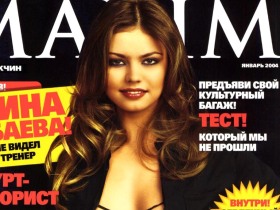 Authorities in Ufa, the capital city of the Russian Republic of Bashkortostan (also known as Bashkiria), are scouring the city and seizing copies of Maxim magazine. As a correspondent for the Sobkor®ru news agency reported on May 8th, officials of the South-Central region are apparently discontent with photographs in the men's glossy.
Militsiya officers, who did not have any formal authorization to confiscate the publication, told shop owners that the magazine contained unlawful obscene content.
Sellers of the magazine were also being called in for questioning, and were told they would have criminal responsibility if they continued carrying the publication.
It is worth noting that the Russian edition of Maxim was officially registered with the necessary federal agencies on February 18th 2002. Officials in Bashkortostan, however, said they were not subject to the Russian ministries. "We have a Bashkiria Ministry of Culture, which believes that this pornography cannot be sold everywhere," one of the magazine's sellers was reportedly told.
The currently active law "On Mass Media" forbids the production and trafficking of materials that promote pornography. However, the Ministry of Culture and Mass Communications recently prepared draft legislation that would allow the sale of erotic and pornographic products, excluding pornography that involves violence, minors, the deceased, symbols and architecture of the state, and animals.
Still, punishment for creating and selling pornography is mild, and sentences are light. Furthermore, the laws see little distinction between pornography involving children versus that involving adults, and this has led to an international reputation for Russia as a haven for child pornography.
Maxim, by some estimated that most popular men's magazine in Russia, features images of scantily clad celebrities and models.  In the Russian edition, a very small portion of those photos portray nudity.