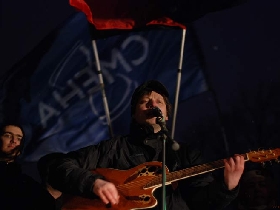 On the night of April 25th to 26th, the leader of a well-known St. Petersburg rock group, the Mukhomory (something like "The Toadstools" or "The Fly Agarics"), was attacked violently as he walked home. As the Sobkor@ru news agency reports, the singer, Andrei Vasilyev, believes he may have been targeted for with his role in the Russian opposition.
Vasilyev was assaulted by three unknown attackers wielding sticks and bricks as he returned home from a club. The singer, an accomplished boxer, managed to fight them off, although he sustained several injuries to his hands, and a large gash on his face.
The musician connects the attack with his role in a planned gathering and concert of the St. Petersburg opposition, set to take place on May 1st. "There was no attempt at a robbery, these people purposefully hit me on the hands, which means they knew that I was performing at concerts on April 27th and May 1st," Vasilyev said.
Andrei Vasilyev performed at the last March of Dissent in St. Petersburg, and sang a satiric song titled "Putin's Plan." The Mukhomory frequently perform at opposition demonstrations.
The protest and concert will take place in St. Petersburg on May 1st, in the Pionersky Ploschad (Pioneer Square) by the Theater for Young Viewers. The show is set to start at 12:00 local time, when a column of protesters will march from the Oktyabrsky Concert Hall to the Pioneer Square. In addition to the Mukhomory, several other musicians will play, including SP Babay, and Mikhail Borzykin of Televizor.