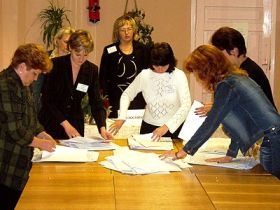 An expert analysis of voting patterns in Russia's March 2nd presidential election has found statistical evidence of widespread voter fraud. As the British Times newspaper reports, the evidence indicates that at least one in three votes for president-elect Dmitri Medvedev were falsely obtained.
The research was led by Sergei Shpilkin, a physicist and computer programmer, who pored through ballot returns reported by local polling stations. He found that an abnormal number of polling stations reported turnout and percentage results ending in five and zero. Such a result would seem to represent "over-enthusiastic" local officials rounding their totals up to please superiors.
The voting pattern also diverged from a typical bell curve, and showed unusual spikes in votes at polling stations with high support for Medvedev.
By Shpilkin's calculations, no less than 14.8 million of the 52.5 million votes cast for Dmitri Medvedev were only explained by mass fraud and the misuse of "administrative resources," such as pressuring voters. He also found that voter turnout was around 56 percent, far lower than the 69.7 percent reported by Russia's Central Electoral Commission. As result it seems that only a third of Russia's eligible voters actually cast their ballots for Dmitri Medvedev.
The evidence suggests that Russian authorities were sharply overcompensating, since Medvedev would still have undoubtedly won the race. But the level of falsification indicates that nothing was left to chance, and that serious measures were taken to elevate Medvedev's position.
Voters around the country reported violations and filed complaints during both the electoral campaign and the March 2nd 2008 election day. Violations included pressure at the workplace, direct ballot stuffing, and the abuse of absentee ballots. A wide group of politicians, human rights activists and independent observers have also disputed the results of the contest. Similar claims of vote rigging were also brought forth after Russia's Parliamentary election on December 2nd, 2007.