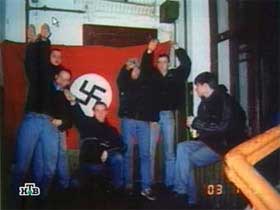 An annual day of violence may soon sweep the streets of Russia's cities and towns. As the Interfax news agency reports, the occasion is Hitler's birthday, April 20th, when extremist youth groups typically stage attacks and violence. In preparation, Russia's Ministry of Internal Affairs will be taking preventative measures, and police will be out in full force to keep the streets safe.
Rashid Nurgaliev, the Minister of Internal Affairs, explained the agency's plans:
"The militsiya always works for pre-emption. That's why measures will be taken, so that there won't be mass disorders or any kind of confrontations."
Nurgaliev noted that the extra measures will correspond with established laws. "Everything must be within the framework of the Constitution and the country's applicable legislation."
This year, the Jewish Passover holiday happens to fall on the same date. As a response, the Federation of Jewish Communities of Russia (FEOR) plans to institute stricter security at synagogues and community centers, according to the Fontanka.ru online newspaper.
For more than 20 years, starting at the end of the 1980s, radical nationalist and neo-nazi groups have used Hitler's birthday as an excuse to lead public demonstrations. Every year, the day is marked by widespread attacks by skinheads on foreign citizens, as well as migrants from the Caucasus region and Central Asia. The neo-fascists also target Jewish sites and monuments.
Rising levels of hate crimes in recent years have led some community leaders to conclude that the police have turned a blind eye to their concerns. After a recent spate of ethnically motivated murders in February, a Moscow town meeting concluded that both the militsiya and the judicial system were dealing too lightly with skinheads and neo-nazis.