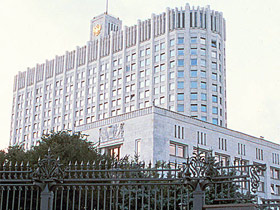 New rules that restrict the work of journalists covering the Russian Government came into effect on April 7th 2008. As the Nezavisimaya Gazeta Newspaper reports, the first change reporters will notice is limited mobility in Russia's White House, which holds the offices of the Prime Minister and the Government.
Correspondents are now relegated to the press-center on the fifth floor, and the adjoining bathrooms. Federal officers will escort journalists to and from the press-center, in order to make sure that the journalists don't wander off in the corridors of power, and don't have the chance to make unsanctioned contact with friendly civil servants.
News agency and print journalists will now no longer be able to access the White House freely during business hours. A special list that allowed open entry Monday through Saturday has been removed, and a room that once served as permanent workspace for journalists has had its doors shuttered. As the Government press-service explained, individual lists for different events will now let reporters in. Correspondents will no longer be provided with any technical facilities.
Media personnel are also barred from the affordable employee cafeterias, although officials have promised free food if the start of work is delayed by unforeseeable reasons.
Nezavisimaya Gazeta believes President Vladimir Putin's coming accession to the post of Prime Minister is directly tied to the crack-down on transparent access to the White House.
Igor Yakovenko, the head of the Russian Union of Journalists, shared his thoughts with the Sobkor®ru news agency, and agreed with that assessment:
"This is a serious step backwards for openness in the executive branch, and is connected with Vladimir Putin's relocation into the Government," he said. "This is his signature style of communication with the press, formed in his years of work at the KGB. Evidently, for a professional intelligence agent, words are an attribute to be concealed, and communication with the press is perceived as a special forces operation. And this style will continue in one form or another, regardless of any formal changes. This is a minus, but there's no catastrophe in it, since the information landscape in the country will be determined by other factors, and not formal rules."
As the Kommersant newspaper reports, the White House press-service explains the new changes as a response to the technological "progress in the methods of disseminating information." The director of the press-service, Aleksandra Zharova, commented in a statement that all official reports and press-releases will be sent by facsimile and email to the mass-media outlets, and will be published immediately on the agency website.
Accredited journalists have had free access to the White House building, including technical facilities, since the attempted coup of August 1991, when hard-line Communists attempted to overthrow Mikhail Gorbachev.