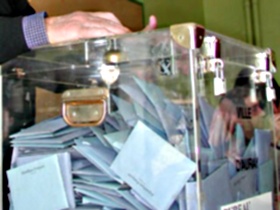 April 1st, Dolgoprudny, Moscow Oblast:
A political expert who reported on violations in recent Russian elections and even took the electoral commission to court has been assaulted and beaten in the city of Dolgoprudny, some 20 kilometers north of Moscow. Grigory Belonuchkin, who works for the Panorama Analytical Center, believes that the attack is connected with his outspoken criticism of violations during the December 2007 Parliamentary elections in Russia.
According to Andrei Buzin, one of Belonuchkin's colleagues, the analyst was lured from his apartment by unknown men who called up and asked to speak with him on an important matter. When he came to the street, he was thrown on the ground and kicked on his torso and his head. He is in stable condition, and is recovering from his injuries.
Belonuchkin is currently engaged in a court case on elections violations against a local territorial electoral commission (TEC). The case, launched on March 19th, involves a questionable vote recount that took place at polling station 306 on the night of December 2nd to the 3rd. The court is trying to determine why the figures of the recount were so drastically different from the original numbers. The recount raised the number of ballots distributed from 740 to 998, upping voter turnout for the pro-Kremlin ­United Russia party from 54.4% to 82.4%, and lowered the number of cancelled ballots from 258 to one.
Igor Pantyushin, an observer from the Communist Party who spent the day at the polling station in question, testified that the initial count was correct, and that 258 blank ballots were annulled when the voting station closed.
Belonuchkin launched the investigation after word from two independent political parties that their counts differed from the official figures.
Electoral monitors have accused electoral officials of widespread fraud during both the December 2007
State Duma and March 2008 Presidential elections in Russia. Recorded violations include electoral manipulation and fraud, ballot stuffing, pressure on voters, misuse of resources on the part of the administration, and the administrative "cleanup" of all politicians not under the Kremlin's control from the political landscape.
The Other Russia opposition coalition has not recognized the results of the Parliamentary and Presidential elections. The group has scheduled a meeting of the "National Assembly," an alternative Parliament, for May 17th-18th.