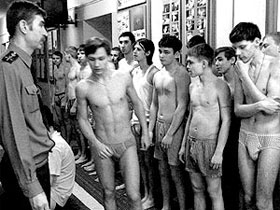 On April 1st, the Russian military began its annual Spring draft. As the Ministry of Defense reports on its website, it expects to take in more than 133 thousand conscripts. Officers will use a variety of measures, including door-to-door campaigns and social networking websites to track down draft dodgers. The campaign, one of two yearly drives, will end on June 15th.
A variety of military reforms makes this a unique draft campaign. The length of the military service term has been shortened to one year, down from two in 2006 and 1.5 in 2007. Experts believe that this will undoubtedly lead to an explosion of "dedovschina," or severe hazing common among military units.
Four of the 25 exemptions to military service have also been removed, and military officials believe this will add an additional 100 thousand soldiers to the pool of conscripts.
New legislation is also in the works that would restrict the movement of young men aged 18 to 27. Draftees are now required to report their whereabouts, and may be drafted in regions of the country where they do not reside.
Still, many men are expected to dodge the mandatory draft by claiming an exemption, avoiding draft officers, and even bribing officials. According to Defense Ministry, one third of eligible conscripts will bow out for health reasons, and some 12,000 young men are currently dodging the draft.
Authorities in the city of St. Petersburg have planned new measures to find the unwilling soldiers, including Russia's most popular online social networks. As the Fontanka.ru internet newspaper reported, the city's Vice Governor, Mikhail Oseyevsky proposed using two popular social networks to send conscription notices to recalcitrant draftees.
The websites, "odnoklassniki.ru" (lit. classmates.ru) and "In Contact," have grown exponentially in the past two years, and Odnoklassniki alone has more than 10 million users.
This would not be the first use of online social networks to track down individuals hiding out from authorities. Banks regularly use the websites to find defaulting borrowers, while court officers commonly seek out debtors.
In Moscow, residents fed up with mandatory military service took to the streets. A protest action called a "March for a Volunteer Army" took place on March 29th, drawing more than 200 people (See kasparov.ru (rus) for a photo-report).