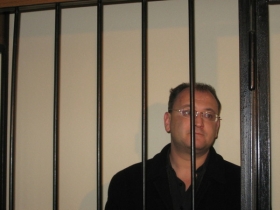 Maxim Reznik, the leader of the St. Petersburg branch of the liberal Yabloko party, has been freed from pre-trial detention, the Sobkor®ru news agency reports. On March 21st, a St. Petersburg city court accepted the appeal of Reznik's attorney, and agreed to change the way the politician was being restrained.
In total, Reznik spent 17 days behind bars. He was detained on the night on March 3rd outside the offices of the Yabloko branch in St. Petersburg, after militsiya officers arrived on the scene of an apparent street scuffle. On March 4th, he was committed to two months imprisonment on charges of "insulting a representative of the authorities," and assaulting a police officer.
Garry Kasparov, the leader of the United Civil Front, said Reznik's arrest was attempted inference with a conference of liberal forces, set to take place in St. Petersburg on April 5th. Reznik serves as the chairman of the conference's organizing committee.
A wide range of prominent public figures stepped out in support of Reznik. In addition, demonstrators held daily solitary pickets protesting his incarceration outside the offices of the Prosecutor's Office in St. Petersburg, as well as the General Prosecutor's Office, and the Ministry of Internal Affairs in Moscow.