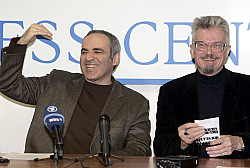 Garry Kasparov, the leader of the United Civil Front party, believes that Russian opposition groups of all stripes need a platform to voice their concerns. At a Moscow press-conference on March 19th, Kasparov called on all forces opposed to the Kremlin to join in the coalition's tentatively-titled National Assembly, which would stand in contrast to Russia's existing Parliament. "We must present the people with an alternative structure whose legitimacy will grow in response to the falling legitimacy of the authorities," Kasparov said.
"In a situation where acting political institutions in the country have been practically eliminated, a platform is needed where our country's agenda can be discussed," he continued. Around 500 to 600 members are expected to take part in the National Assembly, and a list will be finalized at the start of April, after various opposition conferences in Moscow and St. Petersburg.
Eduard Limonov, the chairman of The Other Russia's executive committee, added that the National Assembly was an attempt to create an agency where the problems of the country could be discussed and solved. "If we aren't stopped by jails and bullets, then everything we do will succeed," he said.
"After the presidential elections, the credibility of the State Duma fell to zero," said Oleg Kozlovsky, a coordinator of the "Oborona" (Defense) youth movement. "The National Assembly will fill the space that the State Duma should be filling." He noted the importance that "all forces that stand for the strengthening of Russia's society and for democratic institutions of power, affirm this in practice and take part in the work of the Assembly."
Kasparov added that mass demonstrations known as "Marches of Dissent," were being scheduled for Moscow and St. Petersburg at the time of Dmitri Medvedev's inauguration in the first week of May. A formal letter has been sent to Moscow mayor Yury Luzhkov, relating that other massive gatherings, such as those during the St. Patrick's day celebration, have gone smoothly. "This means that the authorities are capable of maintaining the peace without repression," Kasparov said. Previous demonstrations have been violently shut down by law enforcement.
The Moscow March of Dissent will take place on May 4th at 12:00 along the Novy Arbat, the same location as the St. Patrick's day parade. A route for the St. Petersburg protest has yet to be negotiated.