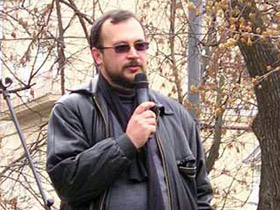 Taras Yushchenko, an activist of the United Civil Front party who disappeared late last year, was held for four months in a pre-trial detention facility. Denis Bilunov, the executive director of the opposition political party, explained Yushchenko's story at a press-conference on political repression in Russia.
According to Bilunov, Yushchenko disappeared shortly before an opposition demonstrations known as a March of Dissent was set to take place in Moscow in November 2007. The veteran of the Chechen war is an outspoken critic of the current administration, and he was planning to attend the protest.
Yushchenko was only released on March 13th. According to the activist, militsiya officers apprehended him, first taking him to a local precinct, and then to a pre-trial detention facility. Criminals are usually held in such centers while an investigation into their case is conducted. Yushchenko was then accused of involvement in an apartment robbery of a former prosecutor of the Murmansk oblast. The activist refutes the allegations, and claims that law enforcement had absolutely no evidence or grounds to connect him with the crime.
Yushchenko said that he was constantly subjected to beatings and derision while incarcerated. Investigators told him that he would only be moved or released in he confessed to the charges against him. Yushchenko eventually agreed to sign a confession statement, and was released from the detention facility. He maintains that the criminal case mounted against him is connected with his active participation in opposition events.