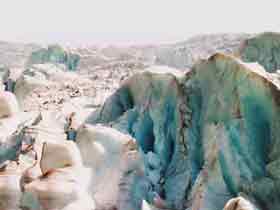 European countries must be ready for a battle over energy resources, and a potential collision with Russia over Arctic mineral resources. These are the findings of a new report authored by the European Union's two top foreign policy officials, the British Guardian newspaper writes on March 10th. The paper has been prepared for a summit of 27 European heads of government meeting in Brussels this week.
The seven-page document was written by High Representative Javier Solana and external relations commissioner Benita Ferrero-Waldner, who believe, in part, that global warming will strain Europe's security concerns. The fundamental issues will surface as results of "intensified competition over access to, and control over, energy resources."
The authors note that melting ice in the Arctic will precipitate a battle over underwater resources. "The rapid melting of the polar ice caps, in particular the Arctic, is opening up new waterways and international trade routes," the report says. "The increased accessibility of the enormous hydrocarbon resources in the Arctic region is changing the geostrategic dynamics of the region."
Global warming has already led to "minor tensions" between Russia and Norway over fishing rights in the Spitsbergen archipelago, according to the report. "The islands of Spitsbergen … have large deposits of gas and oil that are currently locked under a frozen continental shelf,"the paper states. "If global warming were to allow this to become a viable source of energy, a serious conflict could emerge between Russia and Norway."
In August 2007, Russian scientists led an underwater geological investigation that tested soil samples and determined that a mountain range in the Arctic Ocean called the Lomonosov ridge could be considered Russian territory. A later expedition found that the area was connected to the Russian continental shelf, and planted a Russian flag underneath the North Pole.
In September 2007, Russia's Ministry of Natural Resources backed that claim. The territory is thought to contain some 25 percent of the world's undiscovered oil and gas resources.