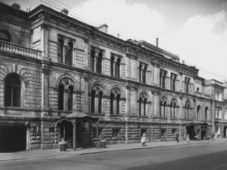 A group of prominent Russian academics have written an open letter in support of the European University at St. Petersburg, a notable graduate-level institution which has been shut down by authorities. The official reason given for the closure is a concern for fire safety, although many believe that the real reason lies in an electoral monitoring course once offered by the University.
Classes have now been suspended for a month, and both faculty and students have begun a public campaign to protest the decision, writing letters and even holding an outdoor lecture near the closed building. Academics worldwide have also raised their concerns and mounted an international campaign in support of the school.
For now, authorities show no indication that they will ease up, or allow the University to open its doors.
OPEN LETTER to the President of the Russian Federation V.V. Putin and the Newly Elected President of the Russian Federation D.A. Medvedev

Dear Vladimir Vladimirovich and Dmitry Anatol'evich!

During the past few weeks the Russian and international academic communities have heard alarming news about the suspension of activities at the European University at St.Petersburg. The official version is that the suspension is due to fire-safety violations. We cannot judge the accuracy of the various interpretations of what is happening. We do not know whether the reason lies in the actual toughening of fire safety requirements, whether blame rests with some unknown raiders who want to take over the University's historical building in the center of the city, or whether the underlying cause is political. We know only that this event has provoked a broad reaction, and is currently being discussed by virtually everyone involved in the social sciences and humanities in our country as well as abroad, from students to professors.

Irrespective of whether the current situation has occurred for bureaucratic, property-related, or political reasons, only one thing is really important: there is a threat to the very existence of an educational and scholarly center of a sort rarely found in Russia (that of a graduate-level university) and with a well-established Russian and international reputation.

As a result of a mass media that is not always competent, a phantom image of the European University has been created, one that represents it as something like a fly-by-night commercial firm created with money from the European Union and with the aim of interfering with the legal course of Russian elections. This simply does not correspond to reality. The European University at St. Petersburg is not a school for the preparation of political technologists, but a well-established multi-disciplinary educational and research center widely recognized by the academic community and consisting of five very different departments: History, History of Art, Political Science and Sociology, Economics, and Ethnology. The University's faculty and students participate in dozens of research projects. They investigate a broad range of diverse problems: from the ethnography of communal apartments to the artwork of the "Wanderers"; from the oral history of the siege of Leningrad to the construction of the Baikal-Amur railroad; from discrimination against women in contemporary society and the history of the animal population in the Barents sea to econometrics and economic game theory.

The European University has gathered a remarkable teaching and research collective within its walls. Its professors and research fellows are very well known to Russian and foreign historians, ethnologists, philologists, sociologists, and scholars of art, as are their books, articles, and conference volumes.

The value of the European University does not rest, however, on its academic activity alone. The University is a project of enormous social importance. For more than ten years it has provided the opportunity to receive a European level post-graduate education to young people from a large number of places in Russia and the CIS, including Moscow, Ekaterinburg, Samara, Irkutsk, Petrozavodsk, Khabarovsk, Pskov, Rostov, Blagoveshchensk, Cheboksary, Kemerovo, Minsk, Kiev, and Kharkov, among others (the list can be continued). For more than ten years the European University has also functioned as an open forum for international meetings of young scholars. It regularly hosts international English-language programs that give foreign graduate students from Europe, the Far East, and the United States the opportunity to study Russian history and culture as a fundamental element of a worldwide cultural process.

The educational programs of the European University have been developed and taught at an international scholarly level, without compromise. This fulfills an additional urgent task: to counteract effectively the notorious "brain drain." Young Russian scholars who have graduated from the European University are able to engage freely and equally in academic exchanges with colleagues all over the world. They feel themselves a part of the international cultural community.

The influence of this University and its graduates on the state of the social sciences and humanities in Russia is very strong. The damage from its being shut down will be enormous, both immediately and in the future.

The successful development of our country and its economic growth on the basis of scientific achievement and the creation of civil society are urgent and inseparably connected tasks now facing Russia. Relations between the scholarly community and the state must be constructed on the basis of a strong partnership and on a philosophy of cooperation rather than confrontation.

We express in solidarity our confidence that the closing of the European University is a temporary one. We express our hopes for that the scholarly collective at the EUSP will be able to work long and fruitfully for the benefit of scholarship, education, and Russian society as a whole.

PIOTROVSKIY Mikhail Borisovich, Corresponding Member of the Russian Academy of Sciences, Director of the State Hermitage Museum, Chair of the Board of Trustees, European University at St.Petersburg
ANAN'CH Boris Vasil'evich, Full Member of the Russian Academy of Sciences
APRESIAN Yury Derenikovich, Full Member of the Russian Academy of Sciences
BONGARD-LEVIN Nikolai Nikolaevich, Full Member of the Russian Academy of Sciences
KAZANSKIY Nikolai Nikolaevich, Full Member of the Russian Academy of Sciences
MIASNIKOV Vladimir Stepanovich, Full Member of the Russian Academy of Sciences
POLTEROVICH Viktor Meerovich, Full Member of the Russian Academy of Sciences
SARABJANOV Dmitry Vladimirovich, Full Member of the Russian Academy of Sciences
YANIN Valentin Lavrentjevich, Full Member of the Russian Academy of Sciences
BAGNO Vsevolod Evgenjevich, Corresponding Member of the Russian Academy of Sciences
BONDARKO Aleksander Vladimirovich, Corresponding Member of the Russian Academy of Sciences
VINOGRADOV Viktor Alekseevich, Corresponding Member of the Russian Academy of Sciences
GANELIN Raphail Sholomovich, Corresponding Member of the Russian Academy of Sciences
DYBO Vladimir Antonovich, Corresponding Member of the Russian Academy of Sciences
ELISEEVA Irina Ilyinishna, Corresponding Member of the Russian Academy of Sciences
LAVROV Aleksander Vladimirovich, Corresponding Member of the Russian Academy of Sciences
MEDVEDEV Igor Pavlovich, Corresponding Member of the Russian Academy of Sciences
MIKHAILOV Andrei Dmitrievich, Corresponding Member of the Russian Academy of Sciences
MOLDOVAN Aleksander Mikhailovich, Corresponding Member of the Russian Academy of Sciences
NIKOLAEVA Tatiana Mikhailovna, Corresponding Member of the Russian Academy of Sciences
RIFTIN Boris L'vovich, Corresponding Member of the Russian Academy of Sciences
TOPORKOV Andrei L'vovich, Corresponding Member of the Russian Academy of Sciences
UVAROV Pavel Yurjevich, Corresponding Member of the Russian Academy of Sciences
PLESHKOV Viktor Nikolaevich, Director of the Institute of Russian History, Russian Academy of Sciences
RUHOVETS Leonid Aizikovich, Director of the St. Petersburg Institute for Economics and Mathematics, Russian Academy of Sciences
TROPP Eduard Abramovich, Academic Secretary of the Presidium of the St.Petersburg Center of the Russian Academy of Sciences
CHISTOV Yury Kirillovich, Director of the Museum of Anthropology and Ethnography "Kunstkamera," Russian Academy of Sciences
YADOV Vladimir Alexandrovich, Dean of the faculty of Sociology, State University of Humanities

Originally published in Russian at: http://www.polit.ru/science/2008/03/05/28akad.html