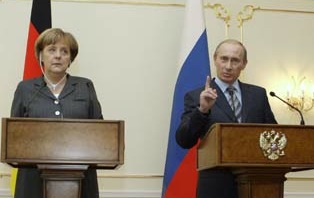 As head of state, Dmitri Medvedev will defend Russia's interests in the international arena no less than Vladimir Putin. As RIA Novosti reported, Russia's current president was firm in assessing his successor at a Moscow meeting with German Chancellor Angela Merkel on March 8th.
"I have gotten used to these types of labels, that it's difficult to talk with a former KGB agent, and Medvedev will be free of this to demonstrate his liberal views," Putin said. "But he is no less of a Russian nationalist – in a good way – than me. I don't think that it will be easier for our parters [to deal] with him. He is a true patriot and he will assert Russian interests internationally in the most active way."
Putin declined to answer questions about the whether Mikhail Khodorkovsky, the former head of YUKOS who is now serving an eight-year sentence, would be pardoned. Blankly, he said, "In accordance with the formal procedure, when a convicted person petitions for a pardon, nothing stops the elected president from looking over the petition."
Putin also expressed outrage at NATO's continuing expansion, saying that he was getting the impression that the Western coalition was aspiring to replace the United Nations. Touching on Kosovo, Putin said that state's independence posed a "damaging and dangerous precedent" for separatist movements worldwide.
For her part, Chancellor Merkel was hesitant to call Dmitri Medvedev a liberal, although she expressed hope that Russian-German cooperation would continue. "It's clear that the future president intends to continue Russia's current path," she told Ekho Moskvy radio. "That means an open path."