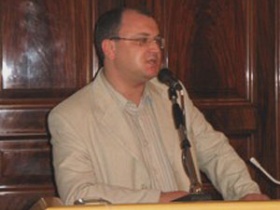 On March 4th, a Russian regional court sentenced the leader of the St. Petersburg branch of the liberal Yabloko party to two months behind bars. According to sources within the party, Maxim Reznik is charged with assaulting a police officer, and is being held in pre-trail detention. Supporters claim the allegations are false and politically motivated.
The court decision was made behind closed doors, with only Reznik's mother in attendance. Reznik's lawyer, Boris Grust, told press that the process was rife with violations and that he planned to appeal the decision.
Garry Kasparov, the leader of the United Civil Front, commented on the arrest: "The first momentous event after the "election" of Dmitri Medvedev is a fabricated legal case against one of the most outstanding leaders of the opposition. It is no coincidence that Maxim Reznik was chosen as the target, since he plays a critical role in organizing the All-Russian Democratic Conference, which was planned for April 6th in St. Petersburg. The Kremlin is cleaning out the political landscape for yet another farcical alliance under the aegis of [Andrei] Bogdanov, the 'uniter of the democrats.' The authorities can still get away with impunity and complete lawlessness, and it seems to be coming in style."
Maxim Reznik was detained on the night of March 2nd to the 3rd outside of the Yabloko party office in St. Petersburg. According to the official account, he was "resisting militsiya officers." Meanwhile, it appears that force was used against him, as his jacket is torn, and he has suffered some bruises.
Witnesses said that around 2 AM, a shouting match was taking place outside of Yabloko headquarters. Patrol officers passing nearby began to detain participants. Reznik tried to intervene in the conflict, and was arrested himself.
Reznik maintains his innocence, and announced that he was starting a hunger strike until a court decision was made about his pre-trial restrictions. He believes that there are no grounds to keep him in custody, as he's a public politician and the single wage earner for his family.
The leader of the Yabloko party, Grigory Yavlinsky, called the criminal case a provocation and said that it was politically motivated.
Alexander Shurshev, a senior Yabloko activist, explained his view to Reuters: "It's an act of intimidation against the opposition movement in St Petersburg, an attempt to behead it and isolate one of its leaders."